2020 Maryland Senior Olympics cancelled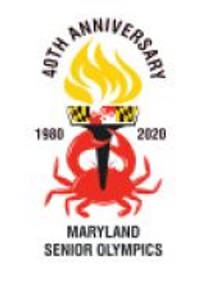 July 13, 2020
To our valued athletes, and all those involved in conducting our games:
This is to announce the cancellation of the 2020 Maryland Senior Olympics Games.
The Board of Directors of the  Maryland Senior Olympics Commission (MSOC), under consideration of all the circumstances currently faced by our communities regarding the COVID 19 virus, has decided that we cannot conduct the games and ensure the safety of our competitors, our officials, our venue coordinators, our volunteers, our fans, and any other person in attendance at the games.
It would be difficult to physically hold competitions and follow the guidelines issued by the various health organizations and the federal, state and local governments regarding the wearing of masks, social (physical) distancing, and the number of persons physically allowed at various venues.  We also face the possibility of not having venues available for various competitions.
As you were informed earlier, for those athletes hoping to qualify for the 2021 National Senior Games in Fort Lauderdale, FL, the adjusted qualification now applies to Maryland Senior Olympians:
Qualification for Priority Registration Period
If Maryland Senior Olympics is UNABLE to conduct Games or specific sports/events in 2020, athletes from Maryland Senior Olympics who qualified for the 2017 National Senior Games in Birmingham, AL and/or 2019 National Senior Games in Albuquerque, NM will qualify in the respective sports/events for the 2021 National Senior Games (i.e., qualifiers from 2016 and/or 2018 respective sports/events from Maryland Senior Olympics).
The number of registrants may be limited for certain sports.
Open Registration Period
An Open Registration period will also be offered to accommodate athletes age 50+ who were unable to attend or qualify at a state senior games in 2020.
The number of registrants may be limited for certain sports.
Change in Power Walk Qualification

Power Walk will continue as an Open Sport for the 2021 National Senior Games presented by Humana. Qualification will not be required for Power Walk.
We at MSOC believe we have a societal responsibility not to just be a part of the process, but a part of the solution.  We will continue to communicate to you any news regarding the 2021 games and other efforts we may be able to offer locally as time passes.
Thank you. Be safe.
Maryland Senior Olympics Commission