2022 season – plans are well underway!
We are looking forward to welcoming returning and new athletes alike with our 2022 season.
Event dates and venues are being firmed up now, check out what we already know here!
Our events will serve as qualifiers for the 2023 National Senior Games in Pittsburgh.
Registration is expected to open by the beginning of May with all details available before then. Check back often for updates! 
Congratulations to all our athletes headed to Ft. Lauderdale in May!
You will be hearing from Stacy about celebrations happening in Ft. Lauderdale.
Stay tuned! 
Maryland Flag Bearers at National Senior Games
Maggie Bennett
Softball player for Maryland Roadrunners
"She founded our team over 20 years ago and has been instrumental in putting Maryland women's softball on the senior softball national map.
She has played in (I believe) 8 or more national senior games; she personifies the grace, effort and excellent sportsmanship for which the roadrunners are known nationwide; she is also an exceptional player; you can see her photo on the Maryland Senior Olympics website. Nobody would be a better choice," wrote her nominator.
"Pam has a bubbly & outgoing personality; she's a true leader.  She's gracious both winning & losing; supporting other athletes.  She embodies the necessary traits to be a representative," wrote her nominator.


Offered year-round so you learn or work on your skills! April 30 is our next event.
Though not part of our official 2022 season, there is no fee for MSO (you pay the club for ammunition) and medals will be awarded.
Thanks to the Associated Gun Clubs of Baltimore for hosting.
11518 Marriottsville Rd., Marriottsville MD.
Safety talk at 9am, shooting to follow.
MSO Names Bowling Tourney After Ed Lanehart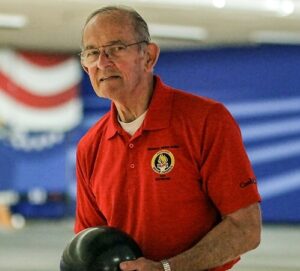 The Maryland Senior Olympics is pleased to announce that our annual bowling event has been named the Ed Lanehart Tournament in honor of our long-time coordinator. The MSO Board vote was unanimous, and Ed's family has approved the honor. Ed passed away last August at age 86. He was inducted in our Hall of Fame in 2005 and had been a member of our board for 26 years.
Many players participated in our bowling tournament because of Ed. He had so many friends and was such a galvanizing presence in the bowling community that our two-day event was a homecoming. We hope to keep that tradition going for perpetuity.
So, mark your calendar for Aug. 29-30 at Bowlero Ellicott City. For men and women age 50 and above, singles, doubles and mixed doubles events will be played. Out-of-state players are welcomed. Registration opens this spring.