Pickleball Schedule, Rules, Parking Map and Other Important Information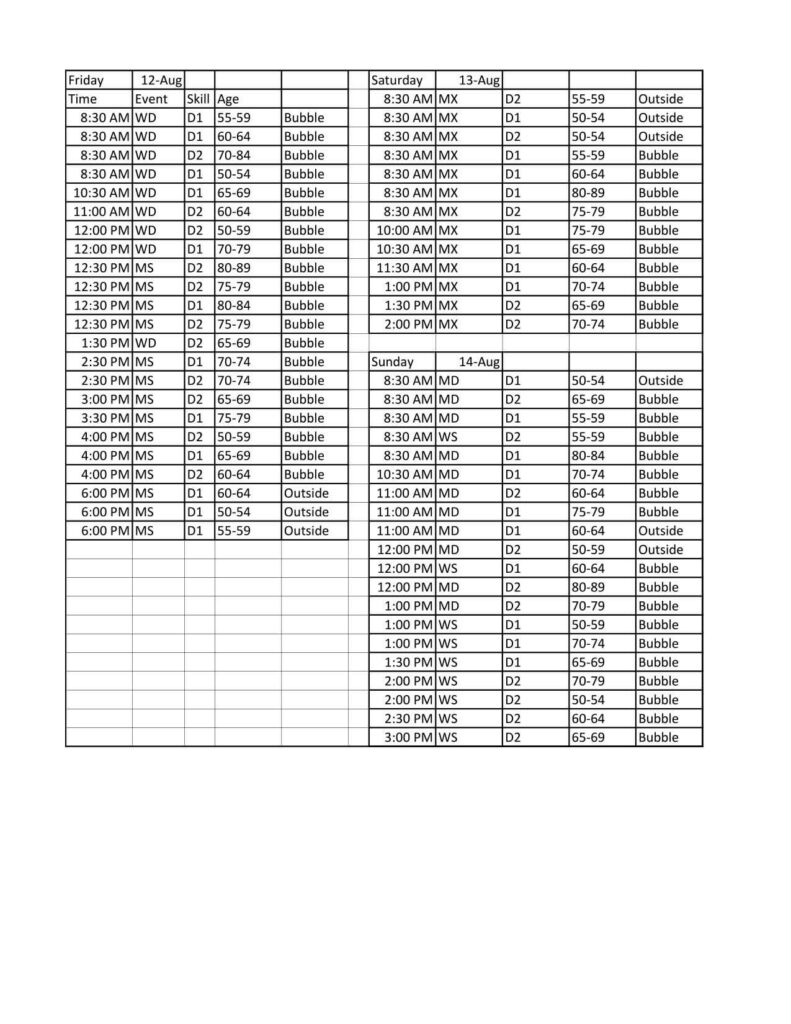 2022 Maryland Senior Olympics Pickleball Tournament
August 12 -14, 2022
Montgomery TennisPlex, Boyds, MD 20841
The Tournament Committee of Stacy Sigler, Shari Sternberg and Scott Keenum have dedicated themselves to a goal of accommodating as many athletes as possible while providing a quality experience.
We are expecting 525 athletes from 7 different states to play over 700 matches. Many thanks to Jack Schore, Marco Impeduglia and the staff at the Plex for hosting our tournament.  We will have access to 16 indoor courts in Bubbles 1 and 2 and 8 outdoor courts. Outdoor courts will be used to facilitate the flow of the tournament. 
Tournaments need lots of helping hands to be successful. We want to thank all the people that have volunteered for the event to help make it a great experience for everyone. Please thank them as well.
We are cognizant that this is a qualifying year for the 2023 NSGA Games in Pittsburgh. While you may be playing in mixed age or skill brackets, you will still be qualified in your specific age and division, I or II. Top four in each age group and division overall, as well as top four Marylander's qualify.
All 2022 USA Pickleball Rules Apply
Key points of the 2022 USA Pickleball rules are summarized below for your convenience. However, as a player, you are responsible for being familiar with the rules in their entirety.
MAJOR NEW RULES FOR 2022
 If the player or referee calls the wrong score, do not stop play after the ball is served to challenge the score. If you do, this is a fault! Any correction will be made at the end of the rally. (Rule 4.K)
Only one hand can be used to release the ball to serve. The ball release must be visible to the referee and the opponent. (Rules 4.A.5, 4.A.6)
 If the ball is visibly spun when released to make a volley serve, the ball can only touch bare parts of the hand. (Rule 4.A.5)
 Headphones and earbuds are not allowed to be worn during play. (Rule 11.P)
Players must play with a USA Pickleball-approved paddle. You are responsible for ensuring that the paddle you play with is listed on the Approved Paddle List posted on the USA Pickleball website.
Players are responsible for calling all the lines on their end of the court. However, in officiated matches, the referee is responsible for calling service foot faults, non-volley zone foot faults, and short serves. The Code of Ethics for Line Calling requires that the opponent gets the benefit of any doubt.
You may ask the referee to make a ruling on any line call. The referee will only make a ruling if he/she clearly saw the ball land. Otherwise, the appealed call will stand.
 Starting server bands will be provided for doubles events and must be worn by each starting server.
 The server must not hit the ball to serve until after the entire score is called.
 After the score is called, the server has 10 seconds to serve the ball.
Any carry, or double hit, must be unintentional and be one continuous motion.
 Players may quickly hydrate and towel off between rallies within the flow of the game.
 Players may only receive coaching from someone other than their partner during a time-out. This includes between games and during end changes.
 Each team has two 1-minute (standard) time-outs per 11-point or 15-point game
 Time-outs for a game may be requested and used during the between game time-out before the game begins.
Any player may call a time-out before the server hits the ball to serve.
In the third game of a 2-out-of-3 game match, or in games to 15 points, teams have 1-minute time-out to change ends of the court (at 6 or 8 points, respectively).
Each player may request one medical time-out per match to address injuries and medical conditions. When a player requests a medical time-out, medical personnel (or the Tournament Director) will be summoned to assess whether the need is valid. If the request is deemed not valid, the requesting player will be charged a standard time-out (if available) and issued a technical warning. If the player has no remaining time-outs, a technical foul will be issued (resulting in a 1-point score adjustment).
In accordance with the USA Pickleball Concussion Protocol, any player sustaining a head injury will not be permitted to resume play without a written release from a licensed health care professional.
 In non-officiated matches, any player may request a referee if the player believes that a rule is being consistently violated or when players are not able to resolve a dispute quickly and easily.
Players are expected to exhibit good sportsmanship at all times. Any action deemed by the referee to be unsportsmanlike will result in a technical warning or a technical foul against the offending player. A game will be forfeited if the player or team receives a combination of technical warnings and technical fouls equivalent to three technical warnings during a match. The match will be forfeited if the equivalent of four technical warnings is obtained.
Other Important Information
All athletes must sign in on a daily basis at the MSO Registration Tent and the tournament desk in Bubble 1.  
Play starts at 8:30am each day. Athletes should arrive at least 30 minutes prior to their assigned play time. 
Athletes will receive a text message to come to Bubble 1 to pick up score card with court assignment and clipboard. Upon completion of match, court monitors will ensure that score and winning team have been properly noted. Initials will be placed on the scorecard by 1 member from each team. Court monitors will review the cards and then scorecard and clip board will be taken to the tournament desk by the athlete or runner (if available).
Each Bubble will have a Bubble Monitor and Court Monitors to maintain the pace of play.
Warm ups prior to each match will be no longer than 5 minutes.
We will attempt to have Gold Medal games officiated.
Our goal is to provide you as much competition while expediting the tournament flow. Therefore, due to the overwhelming number of registrants all matches will be Round Robin or Pool Play format.
Match format is 1 to 15, win by 1, whether round Round Robin or Pool Play format;
Gold medal matches will be 2 out of 3 to 11, win by 2. 
Bracket times will be posted by Tuesday, 8/9.
We will attempt to post the brackets by 9:00 PM the night prior to the scheduled event. 
Weather permitting we will play some brackets outside on the tennis courts.
Indoor courts 1-8 will be in Bubble 1 and Indoor courts 9-16 will be in Bubble 2.
Please ensure that you stay properly hydrated, bring plenty of water.
We will have an athletic trainer on site, they will be located in bubble 1.
There will be portable restrooms on site in the front parking lot and between the bubbles.
Please support our food trucks:
8/12 Friday AM to 3:00   Big Greek Café (Breakfast/Lunch)

   All day Rocklands BBQ (Lunch/Dinner)
8/13      Saturday All Day              Flipside Gastro (Breakfast/Lunch/Dinner) 
All Day                Wi Jammin (Lunch and Dinner)
8/14      Sunday All Day                Flipside Gastro (Breakfast/Lunch/Dinner) 
All Day                Wi Jammin (Lunch and Dinner)
Tents, tables and chairs will be available by the food trucks.
It is our sincere hope that the MSO tournament will be an enjoyable experience for all. We appreciate everyone's support on and off the court. 
.