Thanks to our friends at Mid-Atlantic Volleyball, MSO will not only be hosting our first sand volleyball tournament this season but also partnering for a seniors division at the Rites of Summer Tournament at Rehoboth Beach, Del., May 13-14.
This division is for men's and women's teams aged 50-plus and 60-plus. For details and registration, visit www.mavolleyball.org. Entry fee is $70 per team. Since this is MSO's first time with Mid-Atlantic Volleyball, we need teams to register to help make the division successful.
10K Cycling Time Trials, May 3, Davidsonville Elementary School.
Sand Volleyball, May 13-14, Rites of Summer Tournament, Rehoboth Beach, Del.
Pickleball, May 18-20, Montgomery TennisPlex, Boyds.
Table Tennis, June 3, Potomac Recreation Center, Potomac.
5K Cycling Time Trials, June 7, Davidsonville Elementary School.
Archery, June 24, Parkton.
MSO Sand Volleyball, June 24, Stevenson University, Owings Mills. 
Air Gun Target Shooting, July 27, Associated Guns Club of Baltimore, Marriottsville.
Trap Shooting, July 29, Associated Guns Club of Baltimore, Marriottsville.
Track and Field, Aug. 5-6, Prince George's Sports Complex.
Tennis, August 17-19, Olney Manor Park, Olney.
Basketball, men's and women's, Aug. 26, Meadowbrook Athletic Complex, Ellicott City.
Volleyball, men's and women's, Aug. 27, Meadowbrook Athletic Complex, Ellicott City.
Bowling, Aug. 28-29, Bowlero Lanes, Ellicott City.
5K Run, Sept 2, Kentlands/Lakelands 5K, Gaithersburg.
Racquetball, Sept. 6-7, Severna Park Racquet and Fitness Center, Millersville.
Swimming, Sept 9, Germantown Indoor Swim Center, Boyds.
Badminton, Sept. 9, Bauer Drive Community Recreation Center.
Softball, Sept. 9, Olney Manor Park, Olney.
Horseshoes, Sept. 9, Maryvale Park, Frederick.
Golf, Sept. 11, Laytonsville Golf Course, Gaithersburg.
Cornhole, Oct. 1, Schweinhaut Senior Center, Silver Spring.
Bocce, Oct. 5-6, Asbury Methodist Village, Gaithersburg.
Shuffleboard, Oct. 7, Holiday Park Senior Center, Wheaton.
10K Road Race, Oct. 8 – Race for Our Kids at Baltimore Zoo.
Billiards, Oct. 13, Schweinhaut Senior Center, Silver Spring.
Registration for MSO events opens April 18, except for pickleball, which is underway.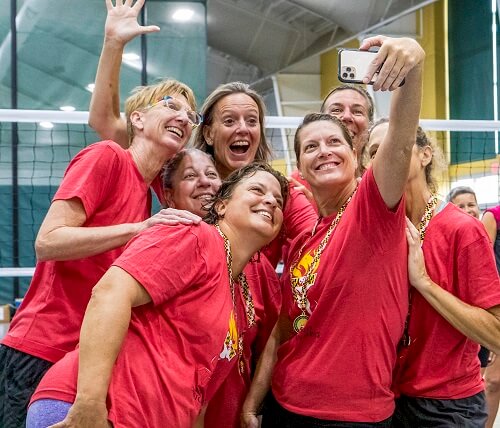 Highlights of our season through images at select MSO events and activities. You can also find these albums on our Facebook page and our Flickr photography site.
Athletes are welcomed to download and share these photos, but no commercial or promotional uses without permission from the Maryland Senior Olympics. All rights reserved.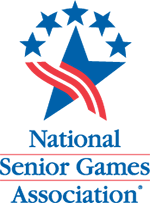 Pickleball Registration Is Underway!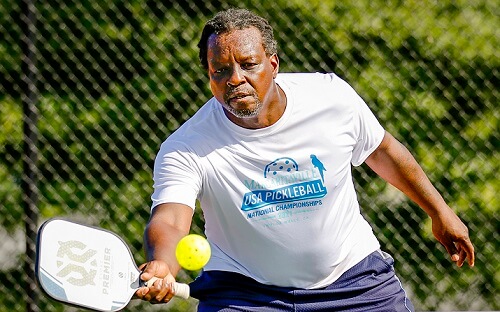 For men and women ages 50 and above, this big event will be held May 18-20 at the Montgomery TennisPlex in Boyds. You can participate in singles, doubles and mixed doubles events in two divisions of play. With two bubbles and outdoor courts, we'll be able to host over 500 players again this year. Schedule:

• Thursday, May 18—Men's doubles and women's singles;
• Friday, May 19—Mixed doubles;
• Saturday, May 20—Women's doubles and men's singles.
A few things you should know:
1.) March 22 through April 4, registration is open to Maryland residents only. Starting April 5, pickleball registration is open to everyone;
2.) MSO pickleball registration closes April 27 at 8 a.m., or when capacity is reached. We'll keep you updated here when capacities have been reached in events and age groups;
3.) To register, go to this link: bit.ly/40u85zL. Last year, we used pickleballtournaments.com, but they were bought by pickleballbrackets.com. Unfortunately, everyone will need to create an account with pickleballbrackets.com.
4.) When partnering with someone that is younger, the older athlete when registering should select the younger age group.
This is especially important for a Maryland athlete that is older, partnering with a non-Maryland athlete that is younger. Since the Maryland athlete can register now, they should select the correct younger age group, and the spot in the group will be reserved for the pair. Then, their out-of-state partner will want to register right away when it opens to everyone April 5;
5.) Anyone not linked to a partner within 20 days of registering will automatically be moved to the waiting list;
6.) No paper registrations for pickleball. You must register through www.pickleballbrackets.com.
7.) This event is not a qualifier for the 2023 National Senior Games in Pittsburgh.

The 2023 Maryland Senior Olympics season brings new officers at the top of our MSO Commission:
Chair—Neal Gillen of Potomac, a member of the Maryland Senior Olympic Commission since 2013, was elected chair, succeeding Carmen Campbell of Columbia, who served and represented us wonderfully over the years. Gillen previously was secretary.
A retired attorney and trade association executive, Neal is an active swimmer and former basketball player who has medaled over 60 times in MSO and National Senior Games competitions. Currently, the 85-year-old Navy veteran ranks first in his age group in Maryland in the freestyle and backstroke events, and he's in the top four nationally. He's also the author of 15 books and numerous short stories.
Vice Chair—Myron Segal was elected vice chair. Myron has enjoyed the training and competition of marathons, triathlons and bike racing all his adult life, and in addition to being a participant, he is also our cycling coordinator. Now retired after 35 years in the federal government and 19 years teaching high school math and science, Segal lives in Silver Spring.
Secretary-Treasurer—James Pearce of Columbia is the secretary-treasurer. He has competed in local, regional, and national track and field meets for 40 years and has served as a USATF track official and referee for the Big Ten Track Championships. A retired lawyer, businessman, and teacher, Pearce has been an MSO Commissioner for over 10 years.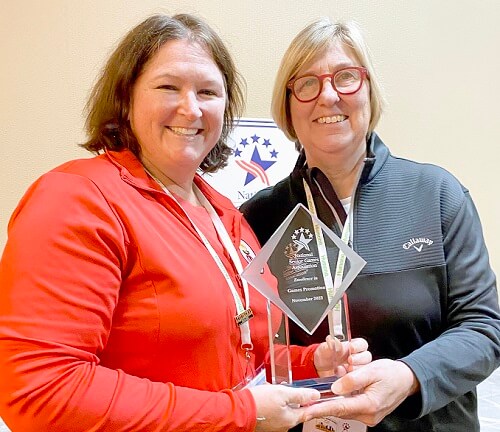 At the National Senior Games annual conference, MSO captured the Excellence in Games Promotion Award for our 2022 guide of activities and events. MSO director Stacy Sigler was in Pittsburgh to accept the shiny award from Sue Hlavacek, interim president and CEO of NSGA. Yay for us!  
Kentlands/Lakelands 5K Run Presents MSO With $1,000 Contribution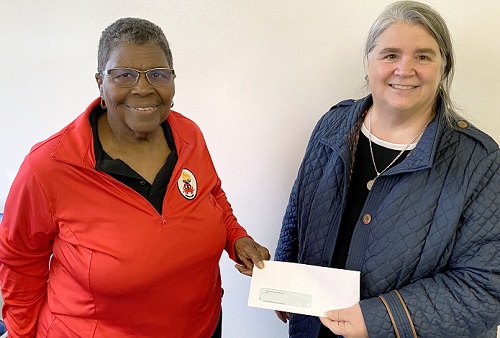 Thanks to our long partnership with the Kentlands/Lakelands 5K run, MSO was again the beneficiary of a generous donation from the Kentlands Community Foundation.
On Nov. 15, Elisabeth Monaco, president of the foundation, and Jaree Donnelly, race coordinator, presented us with a $1,000 contribution, noting that out of the 1,255 runners in the annual race, 270 were seniors.
They also thanked our Stacy Sigler for MSO's continued support of the race, which serves as the qualifier for the National Senior Games. In addition, we award medals to the top senior 5K finishers in their age groups.
Here, Monaco presents MSO Commission President Carmen Campbell with the $1,000 check at our November Board meeting.