National Games Adds 5 Sports,
4 Events For Des Moines 2025
Nov. 15, 2023—The National Senior Games has announced the addition of five sports and four events for the 2025 Des Moines Games. They are…
New Sports
• Beach Volleyball
• Billiards
• Disc Golf
• Powerlifting
• Tai Chi
"We are excited to expand the competition offerings for the 2025 National Senior Games and engage more athletes in the Senior Games movement," said NSGA President and CEO Sue Hlavacek. "Many of these sports and events are popular in local Senior Games, and our event partners in Des Moines fully supported the additions."
The new competitions will be open to all participants ages 50 and above for the 2025 Games and will not require qualification at an NSGA-sanctioned state Senior Games. Specific competition guidelines will be available when the updated event rules booklet is published Dec. 31.
At MSO, we're excited about the new sports, especially billiards. We have long held a successful billiards tournament that has been growing. In fact, we may require two days of play in 2024. And now, these folks can participate in the National Games! We're excited for our players.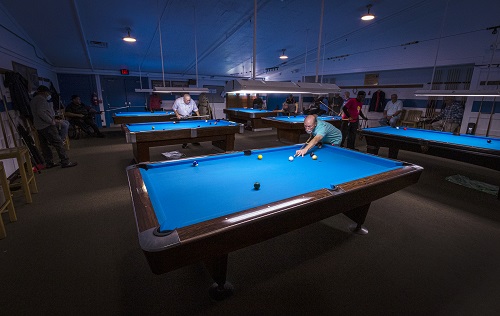 MSO's billiards tournament is so popular that more than one day of competition is needed.
We partnered with a disc golf tournament in Baltimore for a few years but that agreement faded away after the pandemic year. So we're working to get the event revived for next season.
We tried to get beach volleyball off the ground this past season but didn't have enough teams. We'll try again. We're looking for coordinators to help us develop the powerlifting and tai chi events.
New Sports Events
• Non-Ambulatory Pickleball
• Basketball Skills
• Golf Scramble
• 1-Mile Road Race
Our calendar is already packed with 24 sports, so we may have to approach these new events over a couple of seasons. We already have the basketball skills competition and believe it's a natural addition to the National Games.
We're lukewarm on the golf scramble because of the difficulty and cost of getting on the high-demand Maryland courses. We'll look into the 1-mile road race through an existing event, but we expect non-ambulatory pickleball to happen. Can we have it ready for 2024? We'll try.
Canceled Sports
• Racquetball
• Hammer Throw
• 1,500-Meter Race Walk and 1-Mile Precision Race Walk
After the 2025 National Games, racquetball and the hammer throw in track and field will be eliminated. The 1,500-meter and 1-mile precision race walking events will also be eliminated. The power race walking events remain.
At MSO, we plan to keep racquetball as a non-qualifying state games event as we have done with horseshoes, and the hammer throw is entrenched in our records with ample participation.
However, participation in our 1,500-meter race walk has been in steady decline while the 1-mile precision walk continues to have competition. There have been so few for the 1,500-meter event in recent years that those participants have been integrated with the power race walkers on-site, causing some confusion and a lack of proper monitoring by the officials.
The MSO Board will make decisions on the canceled and new sports and events at a near-future meeting.