2022 season – plans are well underway!
We are looking forward to welcoming returning and new athletes alike with our 2022 season.
Event dates and venues are being firmed up now, check out what we already know here!
Our events will serve as qualifiers for the 2023 National Senior Games in Pittsburgh.
Registration is expected to open by the beginning of May with all details available before then. Check back often for updates! 
April 24th @ 1:00-3:00 pm
Save the date: April 24 from 1-3pm
at the Margaret Schweinhaut Senior Center (Silver Spring).
We'll celebrate the athletes headed to Ft. Lauderdale.
More details soon!
National Senior Games - Ft. Lauderdale
Congratulations to all our athletes headed to Ft. Lauderdale in May!
You will be hearing from Stacy very soon with details on a going-away party, cool gear available, and celebrations happening in Ft. Lauderdale.
Stay tuned! 
March 31
April 24
April 30
May 10-23
June 1
July 20
July 23
July 28
July 29
July 30
August 6
August 7
August 20
August 21
August 27
August 28
August 29
August 30
September 3
September 7
September 8
September 10
September 15
September 16
September 17
September 30
October 1
October 2
Deadline to order Ft Lauderdale gear
Athlete Celebration 1-3 pm
Trap Shoot workout
National Senior Games Ft Lauderdale
10K Cycling
5K Cycling
Table Tennis
Air Gun shooting
Air Gun shooting
Trap Shoot
Track & Field and Walking
Track & Field and Walking
3 v 3 Basketball and Skills (women)
3 v 3 Basketball and Skills (men)
Volleyball (women)
Volleyball (men)
Bowling (Ed Lanehart Tournament)
Bowling (Ed Lanehart Tournament)
5K Running
Racquetball
Racquetball
Swimming
Tennis
Tennis
Tennis
Pickleball
Pickleball
Pickleball
We've worked with Gorman's Garments and Gear out of Olney on some fun options you can purchase through their website. Be sure to head to their site to check them out.
You only have until March 31 to place your orders!
If you see something you like, be sure to purchase through the store or order form by March 31.
It's the only way to be sure you will get it!
Go to our Gorman's store page
Offered year-round so you learn or work on your skills! April 30 is our next event.
Though not part of our official 2022 season, there is no fee for MSO (you pay the club for ammunition) and medals will be awarded.
Thanks to the Associated Gun Clubs of Baltimore for hosting.
11518 Marriottsville Rd., Marriottsville MD.
Safety talk at 9am, shooting to follow.
MSO Names Bowling Tourney After Ed Lanehart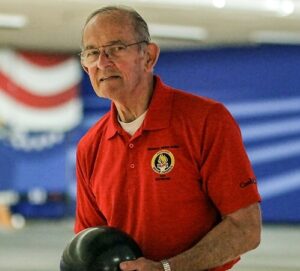 The Maryland Senior Olympics is pleased to announce that our annual bowling event has been named the Ed Lanehart Tournament in honor of our long-time coordinator. The MSO Board vote was unanimous, and Ed's family has approved the honor. Ed passed away last August at age 86. He was inducted in our Hall of Fame in 2005 and had been a member of our board for 26 years.
Many players participated in our bowling tournament because of Ed. He had so many friends and was such a galvanizing presence in the bowling community that our two-day event was a homecoming. We hope to keep that tradition going for perpetuity.
So, mark your calendar for Aug. 29-30 at Bowlero Ellicott City. For men and women age 50 and above, singles, doubles and mixed doubles events will be played. Out-of-state players are welcomed. Registration opens this spring.